Wire cloth is a kind of woven metal wire, forming a sharp contrast with perforated metal or expanded metal products in regard to the processing method, product property, the way they are specified and the way they are used.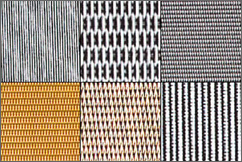 For over ten years, Telas Wire Cloth has been recognized as a leader in product quality and innovation in commercial wire cloth industry. Our commitment is to provide the industrial and consumer market with a wide selection of products and to provide the finest value and services in the wire cloth industry. Telas Stainless Steel Wire Cloth stands out when solutions for precise filtration and excellent corrosion resistance are needed. It excels in giving problem-free screening and is easily cleanable with excellent durability.
Telas Wire Cloth finds popular application areas around the industrial, agricultural, science and technology, also national defense, up to cutting-edge technology, high-tech industries, down to daily life, cultural life, and the simultaneous development of the national economy. It is mainly used in aviation, aerospace, printing, dyeing, electronics, mining, pharmaceutical, food, food processing and chemical industry functioning as screen, filter, bolting cloth or sieves.

When used as wire mesh screen, Telas Wire Cloth mainly serves for metallurgy, coal, rubber, petroleum, chemical, pharmaceutical, automotive, ceramics, glass and other industries as screening materials of solid particles or powders.
Telas Wire Cloth as Filters: Mainly for air filter, oil filter and hydraulic filter media, in the oil industry, industrial plating, chemical fiber, liquid and gas purification filtration.
As Bolting Cloth: When wire cloth is used as bolting cloth, it is mainly used in filtration of high grade precision.
Used As Sieves: Telas Wire Cloth can be processed in the forms of framed test sieves, used for testing, controlling and grading of medicine and other products. Telas wire cloth is produced meeting specifications of testing grade, used for processing into test sieves, classification of materials according to designated particle size. Most sieve standard cloth is made with stainless steel wire cloth or brass mesh according to the requirements for design and construction of testing sieves. The wire cloth is then mounted on a rigid frame that can support and protect the sieve mesh without distortion, looseness or waviness. To prevent the material being sieved from catching in the joint between the wire cloth and the frame, the joint shall be filled smoothly or constructed so that the material will not be trapped. Standard frames for the sieve frames shall be circular with specific nominal diameters. These frames shall be made from non-corrosive material such as brass or stainless steel and be of seamless construction.
Metal Materials Used:

Telas wire cloth is available in:
stainless steel
phosphor-bronze
monel
nickel
steel
copper
brass

Specifying Telas Wire Cloth When You Order:
The most common terms used to specify wire cloth include material, mesh count, wire diameter and weave.
Material – The metal or alloy used in the wire to determine its resistance to corrosion, abrasion, heat and other properties of the wire cloth.
Mesh Count – Refers to the number of openings per linear inch. The mesh is counted by starting from the center of one wire and counting the number of openings to a point one inch distant.
Wire Diameter – The diameter of the wire before weaving.
Weave - The pattern in which the wires running crosswise (Shute Wires) and the wires running lengthwise (Warp Wires) cross each other.

Include above terms in your message for quotation and you will get a prompt response from us.

Services We Offer:
Woven wire cloth is an ideal filter medium which can be easily worked and styled using available techniques. Telas Wire Cloth offers services such as:

weaving
bending
rolling
cutting
forming
welding

We can process materials to your specification, in the forms you need.

In short, Telas Wire Cloth Co. has sincere and devotion for supplying you: high-quality products, preferential prices and excellent service.
Filter Elements exporter: Hengshui Tianjia Filter Equipment Co., Ltd. is a professional manufacturer of all kinds filter elements in china. We acquired international Certificate of Quality System ISO9001:2000 in regard to the manufacturing and processing of filter elements in 2002. We enjoy advanced filter equipment, professional technicians and scientific management and quality control system, aiming at providing good quality products at economic cost for customers.